Sculpted Wire Birds
These beautiful silver coloured birds are made from fine wire woven in a pattern around a sturdy frame. The result is a shimmering decoration that looks beautiful where-ever you put it, sitting pretty and catching the light. 
Stainless Steel Wire and Frame
Three Different Bird Styles
Sturdy Three Pronged Feet
Small Beak
Fair Trade Certified
These birds can be a special gift or a lovely gift for the one you love, reminding them that you love them. Gorgeous on your table or perched in your garden.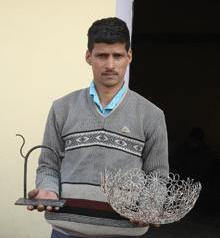 This item was handmade in India in a workshop sponsored by Noah's Ark, an NGO that offers funding for raw materials, machines and workshop repairs to 100 artisan groups across India. In exchange for assistance, workshops must prove that all employees are paid fair wages for their products and work in safe and clean conditions. Noah's Ark also offers free classes in capacity building to its network of 600 artisans, a rigorous quality control check, and runs education and water sanitation projects to benefit the artisans' children and the rest of the community. The company has established 20 new workshops in the past 15 years, and all employees are paid 10-15% above the local rate.
We love Noah's Ark Fair Trade! 
---
We Also Recommend
---